Creative journaling: Fundy artist residence series "Beneath the Surface"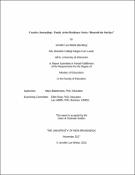 Files
Authors
Publisher
University of New Brunswick
Abstract
A workshop for creative journaling was designed for the Fundy National Park Artist Residency Series "Beneath the Surface" in June of 2017. Nineteen artists and craftspeople participated in the workshop and the residency. After the residency program, the artists returned to their home studios to create work inspired by their time in Fundy Park. The showcase of this curated exhibit opened at the UNB Art Centre in October 2017 and is traveling throughout the province in the calendar year. This project report is a summary, description and analysis of the creative process as it relates to "Beneath the Surface".