"Care and control: the Religieuses Hospitalieres de Saint-Joseph and the administration of the New Brunswick Tracadie lazaretto, 1868-1903"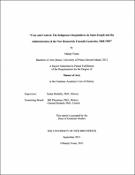 Files
Authors
Publisher
University of New Brunswick
Abstract
Intrigued by the medical and social work conducted by the Religieuses Hospitalieres de Saint-Joseph (RHSJ), this report examines their administration of the Tracadie lazaretto between 1844 and 1903. Collectively evaluating the broader trends in the historiographies of leprosy, of nursing, and the history of Tracadie, this report aims to reveal how region and disease enabled the RHSJ to gain authority as health care and social services providers. Using Foucault's theories of power, as well as centre and periphery model of the history of nursing, this study on the cultural history of medicine explores the power of disease and the expansion of the RHSJ in northeastern New Brunswick. The remoteness and isolation of the Tracadie region, along with its lack of social and medical resources, ultimately provided the sisters with a series of opportunities to expand their services throughout the Acadian community.