The Impact of the Automobile on the Government of New Brunswick. 1897–1932.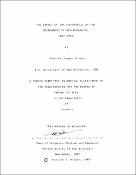 Files
Authors
Publisher
University of New Brunswick
Abstract
G.T. Bloomfield, in his article on motorization in Saskatchewan between 1906 and 1934, pointed out that: "While the historical significance of the motor vehicle has been clearly recognized internationally and nationally there are as yet comparatively few studies of the evolution and impact of the automobile in Canada especially at the provincial and local levels. The lack of Canadian research on the coming of the automobile makes this dissertation a pioneering effort. Fortunately, the arrival of the motor age created so much controversy that there is a great deal of primary material available. Of particular value to this study was the Busy East of Canada which, due to the interest of its editor C.C. Avard, became an important advocate of good roads and tourism. Other valuable sources, such as government reports and newspapers articles, provided a wealth of information and have been used extensively. The coming of the motor-age to New Brunswick during the first three decades of the twentieth century was an important period of change and growth within the provincial government. The automobile created situations that required provincial involvement in administrative areas that had traditionally been left to local governments. This transition from local control to centralized administration is reflected in the various changes within the public works department, and also in the creation of the New Brunswick Bureau of Information and Tourist Travel and the New Brunswick Provincial Police.