Genesis of gold mineralization at the Cantung W-Cu skarn deposit, N.W.T.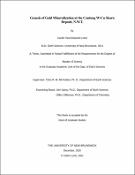 Files
Authors
Publisher
University of New Brunswick
Abstract
This study was initiated to identify what phases host the gold mineralization, which skarn assemblages it is hosted within, the relationship between the tungsten and copper mineralization and the gold and bismuth mineralization, as well as the timing of these gold mineralizing events and their relationships to nearby intrusions at the Cantung W-Cu mine, Northwest Territories, Canada. Using detailed reflected light microscopy, the main gold-bearing phase was identified as electrum (Au-Ag alloy) with an assemblage that included native bismuth, several bismuth telluride and selenide minerals, as well as silver and lead sulfosalts. The textures exhibited by these Bi-Au-Te-Se -bearing phases suggest they precipitated from aqueous solutions as polymetallic melts which remained molten throughout the growth of other skarn and vein minerals and ultimately exsolved from these melts. After ascertaining the skarn and vein assemblages hosting gold, U-Pb geochronology of allanite and titanite was conducted to determine the timing of these events.