What will be the future role of China in the world?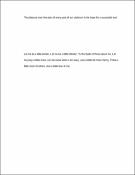 Files
Authors
Publisher
University of New Brunswick
Abstract
As China continues to pursue what it has described as peaceful development, it has found strength in growing its military, continue to strengthen its regional power and stabilizing its position and prominence in international politics and economic affairs. The question is no longer whether China's rise will lead to world superpower, greater influence or partial influence in world affairs, but what will be the future role of China in the word? Will China stay within the status quo of the international system or will it transform it? This thesis suggests that in the coming decades, China will continue to seek increased resources to sustain its economic growth and development. To best accomplish this, it will strive to maintain global peace and security through continued bilateral trade agreements and cooperation with both its neighbours and developing and developed countries across the globe. It will strive to promote balance of power within the many existing international organizations currently in existence. As such its future role will entail increased international involvement within its policy of non-interference and respect for state sovereignty.