The relationship between language and thought: Exploring Vygotsky and sociocultural approaches to second language research.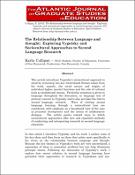 Files
Authors
Publisher
University of New Brunswick
Abstract
This article introduces Vygotsky's sociocultural approach to mind by reviewing two key interrelated themes taken from his work, namely, the social nature and origins of individual higher mental functions and the role of cultural tools as mediational means. Particular attention is given to language throughout the discussion, as language was of primary concern to Vygotsky and it also provides the link to second language research. Ways of viewing second language learning through a sociocultural lens are considered, with emphasis on a broadened view of the zone of proximal development and the notion of collaborative dialogue. The article points toward ways in which sociocultural approaches offer new and expanded methods of conducting and interpreting research in second language education.
Collections